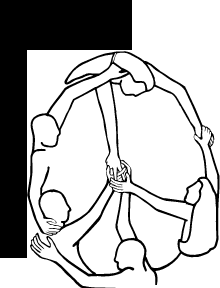 Peace and Justice Works
Site Navigation















Download a flyer for this event
---
"An Occupation by Any Other Name: Iraq 11 Years Later"
Visibility Action
Wednesday, March 19, 2014
3:30-6:00 PM
NE Couch and Martin Luther King Jr Blvd
(East end of Burnside Bridge)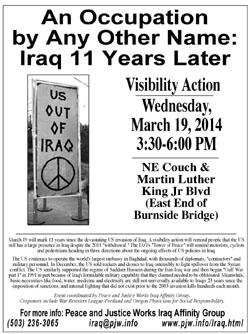 Wednesday, March 19 will mark 11 years since the devastating US invasion of Iraq. Peace and Justice Works Iraq Affinity Group (IAG) will hold a visibility action to remind people that the US still has a large presence in Iraq despite the 2011 "withdrawal." The action will run from 3:30-6:00 PM that day at the intersection of NE Couch and Martin Luther King Jr Blvd (at the east end of the Burnside Bridge). The IAG's "Tower of Peace" will remind motorists, cyclists and pedestrians heading in three directions about the ongoing effects of US policies in Iraq. The title of the event is "An Occupation by Any Other Name: Iraq 11 Years Later."
The US continues to operate the world's largest embassy in Baghdad, with thousands of diplomats, "contractors" and military personnel. At least 250 US troops and 2000 contractors were in Iraq as of late January (Stars and Stripes, January 24). In December, the US sold rockets and drones to Iraq ostensibly to fight spillover from the Syrian conflict. The US similarly supported the regime of Saddam Hussein during the Iran-Iraq war and then began "Gulf War part 1" in 1991 in part because of Iraq's formidable military capability that they claimed needed to be obliterated. Meanwhile, basic necessities like food, water, medicine and electricity are still not universally available to Iraqis 23 years since the imposition of sanctions, and internal fighting that did not exist prior to the 2003 invasion kills hundreds each month.
The future of US troop presence in Afghanistan hinges on the same question that led to the withdrawal of combat troops from Iraq-- whether American servicemen and women will be granted immunity by the foreign land whose soil they will be stationed on. This action will help educate the public about how the 2001 and 2002 Authorizations for Use of Military Force help perpetuate the endless wars and occupations this country is engaged in.
Along with the Iraq Affinity Group, cosponsors include the War Resisters League-Portland, Oregon Physicians for Social Responsibility, Americans United for Palestinian Human Rights, Women's International League for Peace and Freedom-Portland, Peace Action Group of the First Unitarian Church, 18th Avenue Peace House, American Friends Service Committee, Portland Peaceful Response Coalition, Veterans for Peace Chapter 72, Recruiter Watch, No Nukes NW, RadCast and Occupy Portland Elder Caucus.
Participants are encouraged to use public transit. TriMet bus lines 6, 12, 19 or 20 or the Central Loop streetcar will get you to the site.
For more information or to get involved contact PJW at 503-236-3065 or iraq @ pjw.info. A Facebook event has been set up at < https://www.facebook.com/events/770073943017953/770113013014046>.
Resources for March 19
Flyer (updated 3/10/14)
Facebook event