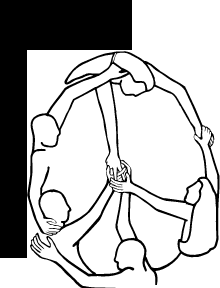 Peace and Justice Works
Site Navigation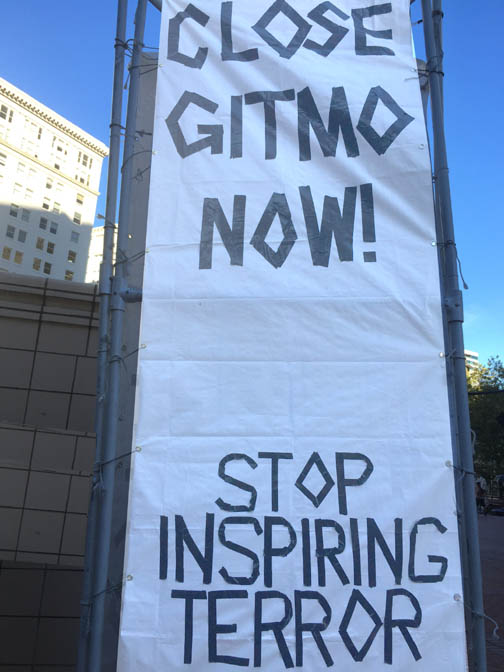 NOTE: JANUARY 11 2017: YES, THIS ACTION IS ON, IN THE SNOW!!!
NEWS ITEM
For immediate release January 11, 2017
"15 Years of Human Rights Abuses at Guantanamo-- Shut It Down!
Visibility Action
Wednesday, January 11, 2017
4:00-5:30 PM
SE Hawthorne & Grand (East end of Hawthorne Bridge)
Featuring the "Tower of Peace" to mark 15 years since the prison camp opened.

Portlanders are once again planning to mark the sordid anniversary of the opening of Guantanamo Bay prison with a visibility action at the east end of the Hawthorne Bridge (SE Hawthorne & Grand) on Wednesday, January 11, 2017, from 4:00 to 5:30 PM. The message of the organizers is "15 Years of Human Rights Abuses at Guantanamo-- Shut It Down!" The event will include the 12- foot-tall "Tower of Peace" strung with banners reading "CLOSE GITMO NOW-Stop Inspiring Terror."
This will be both a last-ditch effort to ask President Obama to fulfill his promise to close the prison camp-- it's down to just 60 prisoners now-- and a plea to incoming President Trump and congress as well. Amnesty International is currently working on a campaign to get President Obama to close the prison before he leaves office: < http://www.amnestyusa.org/CloseGuantanamo>
A flyer for the event is available at http://www.pjw.info/gitmo15yl_flyer.pdf
The event is being cosponsored by Peace and Justice Works Iraq Affinity Group, Amnesty International Group 48 and the Portland Close Guantanamo Coalition, along with Jewish Voice for Peace-PDX, Americans United for Palestinian Human Rights, Veterans for Peace Chapter 72 Portland, Occupy Portland Elder Caucus and others. Groups who would like to join as a cosponsor (at no cost, though donations are gladly accepted!), or for more information, contact Peace and Justice Works at 503-236-3065 or iraq@pjw.info.
---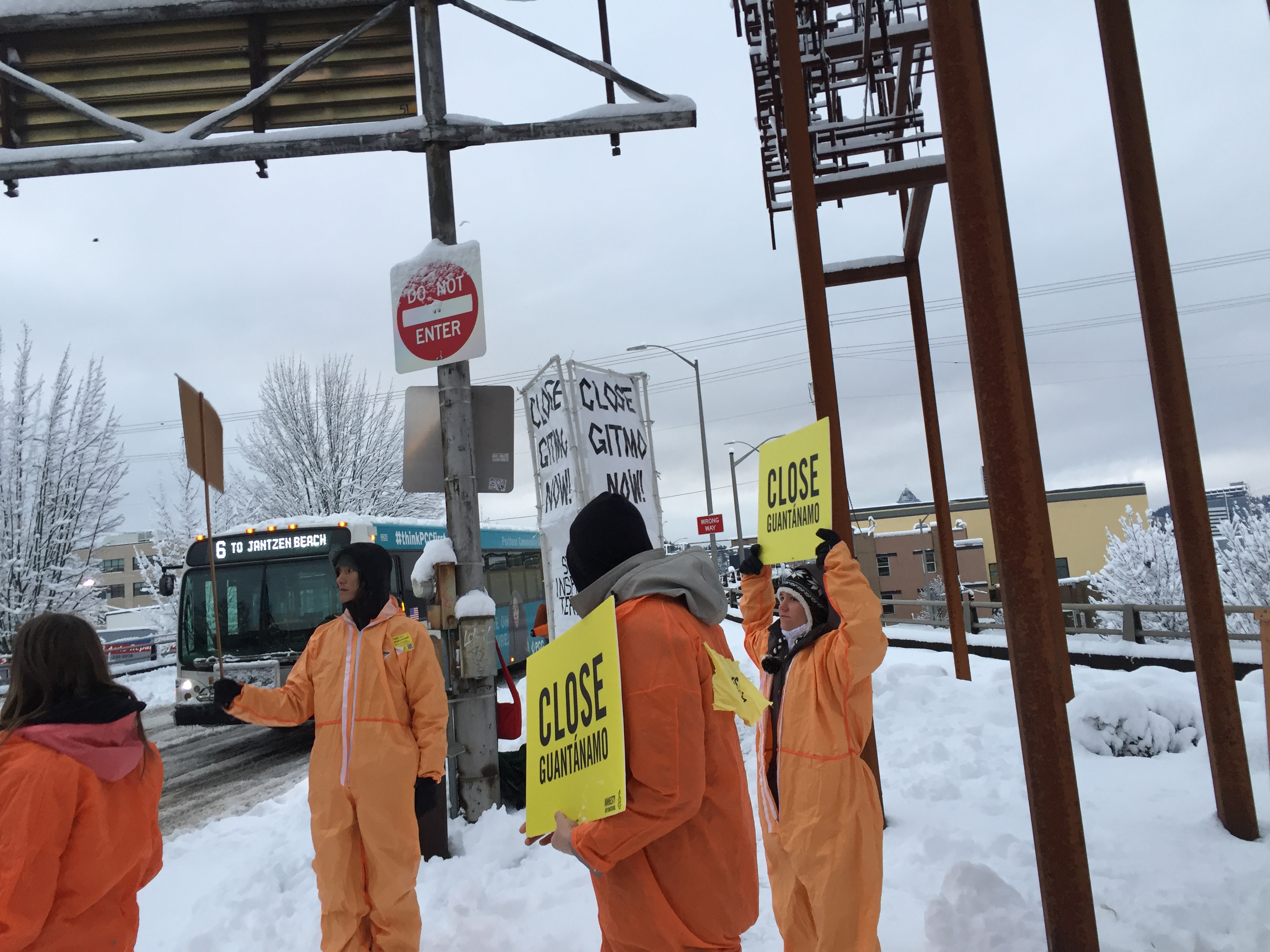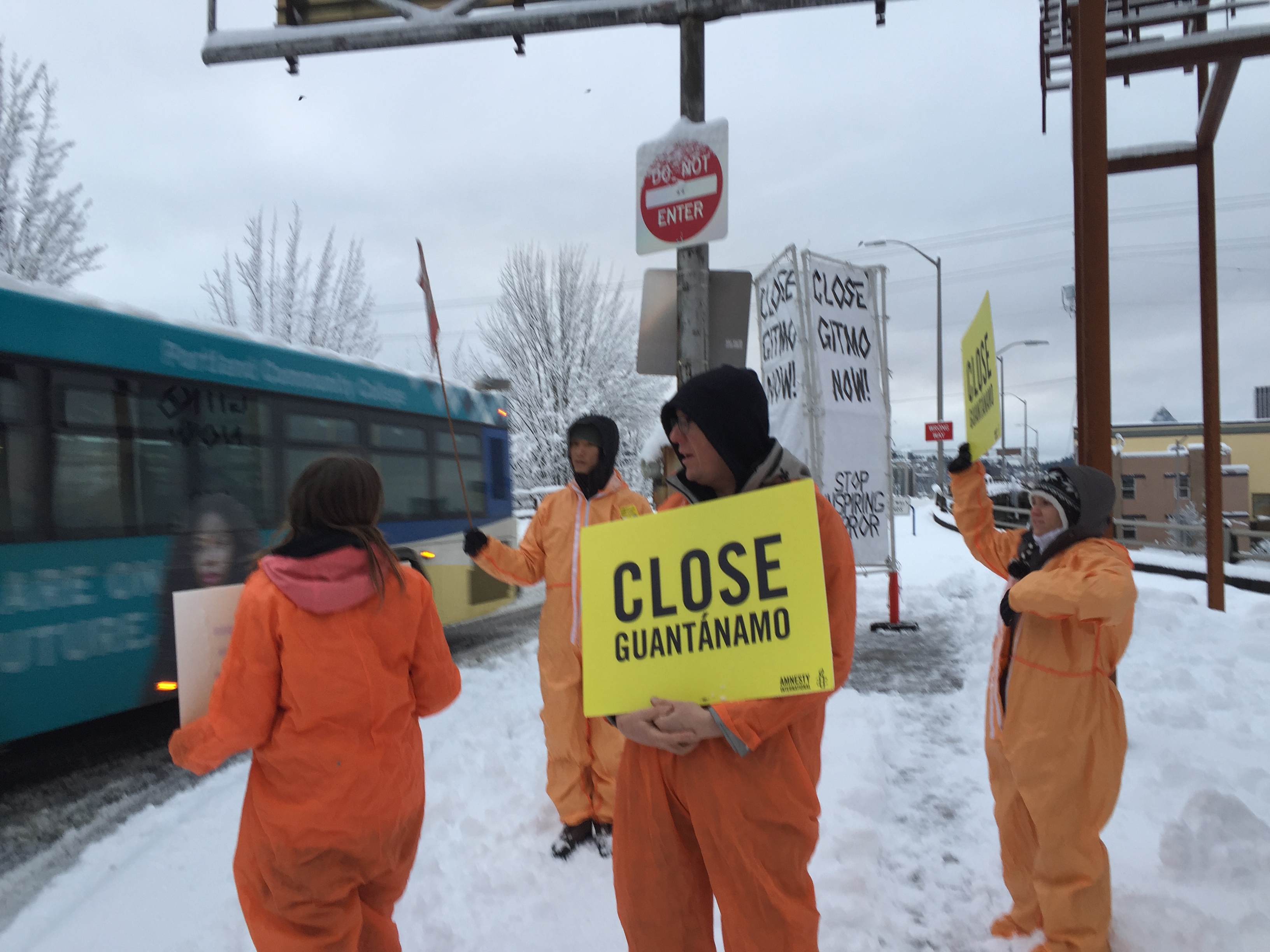 Photos courtesy Amnesty Chapter 48-- a successful action in the snow!

---
How'd we do it? Dragged the Wagon of Peace 35 blocks!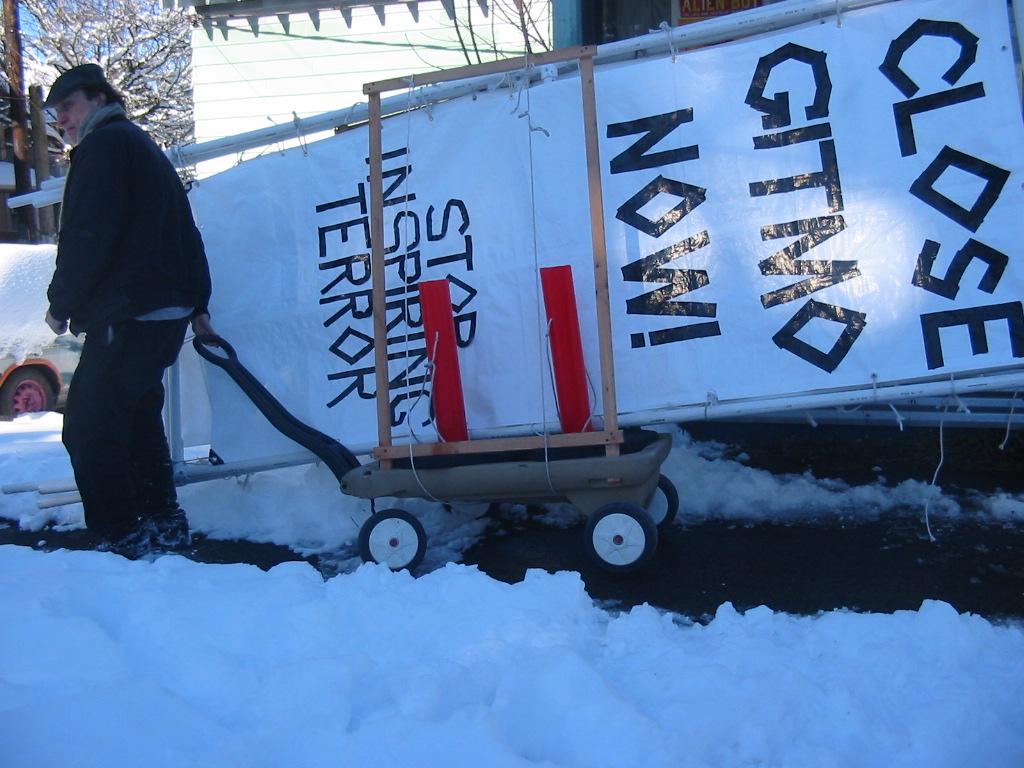 ---


Resources for Jan 11
Flyer