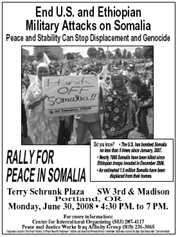 Download a flyer (.pdf format)
---
Rally for Peace in Somalia
to Focus Portland's Attention on
U.S., Ethiopian Military Intervention
Monday, June 30, 2008 4:30 PM to 7:00 PM
Terry Schrunk Plaza, SW 3rd and Madison

Portland area peace activists and Somali immigrants will rally on Monday, June 30 to call for peace in the war-torn nation. "End U.S. and Ethiopian Military Attacks on Somalia: Peace and Stability Can Stop Displacement and Genocide" is the theme of the rally, to be held Monday, June 30, from 4:30 PM to 7:00 PM at Terry Schrunk Plaza at SW 3rd and Madison in downtown Portland. The main organizations behind the effort are the Center for Intercultural Organizing and Peace and Justice Works Iraq Affinity Group.
Prompting the rally were a series of bombings by U.S. military aircraft and submarines, the most recent of which killed 25 Somalis on May 1, threatening peace talks that had been planned among warring factions (1). The U.S. also bombed Somalia in March, 2008 (2) and January, 2007 (3). The U.S. airpower is supporting Ethiopian troops, which invaded Somalia in late 2006 purportedly to help stabilize the country, after fighting between an interim government's forces and various militia groups broke out. It is estimated that over 6000 Somalis have been killed in the conflict and over 1.5 million have become displaced from their homes (4).
The U.S. says they are targeting "terrorists," "Islamists" and fighters who are affiliated with the Council of Somali Islamic Courts and/or Al Qaeda, in theory making this part of the "War on Terror." The U.S. has also bombed Afghanistan, Pakistan, and a number of other countries since 2001 in the name of the "War on Terror."
Organizers are concerned that U.S. and Ethiopian military intervention is motivated by long-term military, political and economic goals such as housing "Africom"--the U.S. command in Africa (5), controlling the nearby Middle East (6), and drilling for known oil reserves (7).
Ethiopia's military has been accused of mass killings and various other atrocities such as rape, torture and looting, documented by Amnesty International in a May 2008 report (8).
Members of the local Somali community and their allies are calling for a peaceful protest to include speakers, music, and informational literature.
Other groups cosponsoring the event include Code Pink Portland, Portland Peaceful Response Coalition, American Friends Service Committee, PDX Peace Coalition, Portland Central America Solidarity Committee and Multnomah Monthly Meeting of the Religious Society of Friends (Quakers). Endorsers include the East Side Democratic Club, Freedom Socialist Party and others.
For more information or to get involved contact the Center for Intercultural Organizing at 503-287- 4117 or Peace and Justice Works at 503-236-3065.
-------------
Footnotes:
(1) "US raid 'undermines' Somalia talks," Al Jazeera, May 2, 2008
(2) "Chaotic Somalia keeps U.S. on terrorism watch," Christian Science Monitor, March 5, 2008
(3) "Somali organizations report of bombings targeting innocent civilians," Oxfam, January 12, 2007
(4) "Mogadishu violence kills 6,500 in past year," Reuters, December 31, 2007
(5) "US to get Africa command centre," BBC, February 6, 2007
(6) "Somalia as a Military Target," by Stephen Zunes, CommonDreams.org, January 16, 2007
(7) "Canada's Africa Oil Starts Somalia Seismic Survey," Reuters, May 21, 2008
(8) "Somali refugees speak of horrific war crimes," the Guardian, May 7, 2008
Peace and Justice Works Iraq Affinity Group
PO Box 42456
Portland, OR 97242
(503) 236-3065 (Office)
iraq@pjw.info
http://www.pjw.info/Iraq.html
Center for Intercultural Organizing
2808 NE MLK Jr. Blvd. #13
Portland, Oregon 97212
(503) 287-4117
info_[at]_interculturalorganizing.org
http://www.interculturalorganizing.org
---