Click here for full list of 126 cosponsors and endorsers
---
March 20: Portland's March and Rally Draws 12,000, Ties Communities and Issues Together
By Dan Handelman, Peace and Justice Works

The city of Portland, Oregon witnessed one of its largest peace and social justice rallies ever on Saturday, March 20 as over 120 organizations bonded together behind the banner "The World Still Says No To War." While organizers expected between 2000 and 5000 participants, low estimates (the Oregonian, below) were 6000 and high estimates were 15,000...tripling the projected numbers. Based on the length of the march at its most compact (7 city blocks) organizers estimate probably 12,000 people attended Portland's call for this global day of action against war and occupation.

In a great show of solidarity, the young and old, churches, labor unions, peace groups, environmental activists, GLBTQ organizers, and thousands of others joined their many voices to show opposition to the war on Iraq, one year later. Other themes included "Fund Jobs, Education and Health Care, Not War; End US Support of Israel's Occupation of the West Bank and Gaza; and Defend Civil Liberties - Repeal the USA Patriot Act."

Leading off both the rally and the march were Veterans and military moms. Northwest Veterans for Peace founding member Marv Simmons reminded people of his musically borrowed call from 13 years ago, "War, what is it good for? Absolutely nothing!" Anne Haley, whose son was taken out of graduate school to go back into active duty in Iraq, expressed her anger at the irony -- her son has been taken out of school to go to war while President Bush avoided war by going to school. Hurley is affiliated with Military Families Speak Out, a national group. Tina Tierson, whose son was killed in Operation Desert Shield in 1990 as the U.S. geared up for its first major assault on Iraq, asked the crowd to remember all the sons and daughters whose lives are now on the line. Deb Hedding, a Vietnam and Desert Storm veteran, and Grant Remington, both of Veterans for Peace Chapter 72, shared their thoughts of the need to bring the troops home and the cynical reasons the administration sent them to Iraq in the first place.

Keynote speaker Ramon Ramirez, president of PCUN, the NW Farmworkers' union, and Laurie King, the event host who is with Jobs with Justice and Jews for Global Justice, both emphasized the importance of tying issues together. Ramirez pointed out the hypocrisy of wealthy congresspeople, none of whom have children serving in the Gulf, referring to "our troops." "Those are our people!" shouted Ramirez to an appreciative crowd. "Working people down there! People of color! Immigrants! Those are our people that are fighting!"

The march took off from a tightly packed Pioneer Courthouse Square at roughly 1:45 PM, taking over 70 minutes for just the front end to return from the 34-block route.

Along the march, Palestinian-American Hala Gores stood beside the Oregonian building to criticize U.S. support for Israeli policies in the occupied territories. Barbara Dudley, a PSU professor, addressed the current administration's attack on civil liberties in front of the Federal Courthouse. Nancy Gonzalez of SEIU 49, which is fighting for a union contract with building management at the Commonwealth Building in downtown Portland, stood by that building demanding justice and shouting "No a la guerra!" Jack Mulcahy, President of the International Longshore and Warehouse Union Local 8 then took the stage on the mobile "peace train" to emphasize the importance of supporting workers' rights in the face of growing government oppression. He cited an antiwar rally in Oakland where police attacked members of the ILWU local there last year.

Meanwhile, singers sang, drummers drummed, radical cheerleaders cheered, and people enjoyed each others' company on one of the warmest March days in memory.

Back at the Square, youth speakers from the American Friends Service Committee Latin American Asian Pacific Youth Program, the Student Activist Alliance, and Love Makes a Family talked about the impact of war spending on education, and the impact of war itself and its related policies on young people, people of color, and queer youth.

Music from Marimba Primaveral di Guatemala, Samusson and Tomassi, the Gypsy Moths, Terri Grayum and the Blacknotes helped keep the crowd upbeat, and over 40 organizations brought literature to share at tables in the Square. Well over 70 volunteers were involved in everything from audio setup to peacekeeping and cleaning up trash.

A street party that took over Broadway blocked traffic for about another hour after the march returned but ended peacefully when the event wrapped up at about 4:30 PM.

The organizers' strategic decision to get permits and discuss plans with the police to avoid any confusion on the part of the City or law enforcement seems to have paid off with no arrests and no pepper spray marring a successful, huge event. The Portland event certainly showed solidarity with the millions who marched around the world on March 20th. Now the challenge is to take this energy and make for real changes in U.S. foreign and domestic policies.

--Dan Handelman is a founding member of Peace and Justice Works, one of the 126 cosponsoring/endorsing organizations for the March 20 event in Portland. More information is available on the PJW website at http://www.pjw.info. Audio of the speakers at the beginning rally and the first two march stops is available at http://www.PhilosopherSeed.org/r ealaudio/march20.ram.

--------------------------------

http://www.oregonlive.com/news/oregonian/index.ssf?/base/news/1079873866317260.xml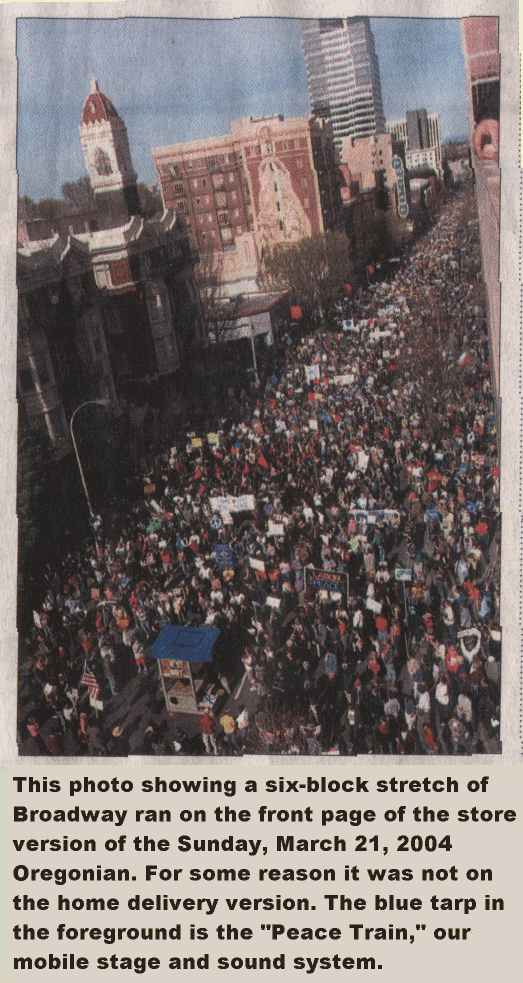 Thousands rally for peace
Portlanders take a civil stand against war a year after the Iraq invasion
03/21/04
STEVEN CARTER and ALLAN BRETTMAN
Led by military veterans, thousands of parents, students, children, teachers and other activists marched through downtown Portland on Saturday in a peaceful protest against the year-old U.S. invasion and occupation of Iraq.
The protesters filled Pioneer Courthouse Square for a 45-minute rally, then headed south on Broadway for a 11/2-mile march before returning to the square about an hour later for more speeches and music. They denounced the war and vowed to drive President Bush from office in the fall, but they avoided any trouble. Police said they made no arrests during the three-hour event.
Carrying a blue and white United Nations flag, Joan Stevens of Northeast Portland said she came to the rally to express her opposition to the Bush administration's foreign policy.
"I've lived long enough and seen enough wars to know that war doesn't solve the problems of the world," she said. "I feel we are headed in the wrong direction."
Pat Helmstetter of Gresham, who served as a Navy diver in Vietnam, was one of many people who were present a year earlier for an antiwar rally right after the invasion began. This time, he was marching with his wife, Colleen, who was an Army nurse in Vietnam. Both are disabled.
They were among a group of veterans at the front of the parade who carried a flag-draped coffin meant to represent the 570 U.S. service members who have died since military operations began in Iraq.
"We are both very much against this war," Colleen Helmstetter said. "There are too many parallels between Iraq and Vietnam."
Though the event had a serious purpose, the atmosphere was sometimes lighthearted. A half-dozen women wearing silver foil wigs sang an anti-Bush song to the tune of "Ain't Got a Barrel of Money."
"We felt called on as an antidote to despair and the old way of doing things -- the idea that war is the only solution," said Deborah Eimbender, 56, of Portland.
Marchers passing the corner of Southwest Taylor Street and Broadway got a boost from the Portland Radical Cheerleaders, Local No. 2.
"There was another one before us, so we're Local No. 2," said Kathleen Manseau, 30, of Portland. The nine-woman, one-man skirted troupe shook red and black pompoms and barked synchronized antiwar cheers.
"We're sexy! We're cute! And rad-i-cal to boot! We're angry! We're tough! And we have had enough!"
More than 45 peace and social-action groups sponsored Saturday's rally. It was one of the largest antiwar protests in Portland since the war started on March 19, 2003, and one of hundreds across the country on Saturday.
Will Seaman of Portland Peaceful Response said the turnout was far higher than organizers expected.
"We filled the square, and it was overflowing," he said, guessing that as many as 12,000 people took part.
Other estimates ranged from 6,000 to 9,000 people, but it was impossible to pinpoint an exact number.
Whatever the count, the crowd made a lot of noise as it snaked through downtown streets on a hazy but sunny afternoon. A drum corps near the front of the line tapped out a snappy beat, keeping marchers swaying to and fro. "Bring the troops home," the marchers shouted. "Make peace, not war."
Police officers on bicycles moved along the perimeter as the marchers headed up Broadway, down Columbia Street and north toward Old Town, a moving forest of people, banners and signs. Students from the Clark College chapter of Amnesty International carried a 30-foot yellow banner that read, "The World Still Says No War."
The marchers drew smiles and peace signs from onlookers.
Mo Phillips, who works at an off-track-betting parlor on Southwest Third Avenue, stood in the doorway as marchers threaded north.
"Any time the public comes out in number for a cause, that's a good thing," he said. "This is democracy."
Rosie Sizer, Central Precinct commander for the Portland Police Bureau, praised organizers for cooperating with police to make the event nonviolent.
"The organizers did a terrific job on this," she said. "There has been no bad energy today."
Seaman, of Portland Peaceful Response, said, "We've done these events seven times now, and they are always a celebration of peace and the struggle for justice."
Police blocked off Broadway and other streets for the march. The crowds delayed buses between five and 15 minutes, said Mary Fetsch, TriMet spokeswoman, and one MAX train was held up for about 20 minutes. "The crowd was really great about letting trains and buses get through," she said, though some buses had to be rerouted.
Although the crowd was in a good mood, there was plenty of vitriol aimed at President Bush. Speaker after speaker railed against him for launching the war against Iraq and for domestic policies they said favored the rich and ignored the poor.
But at least two small groups on the fringes of the rally provided a pro-administration message. "God bless President Bush!" one man shouted as he walked the parade route, with one companion carrying an American flag and another a U.S. Marine Corps flag.
Laura Jenkins, 20, a member of the College Republicans at the University of Oregon, waved a Bush-Cheney sign with a few friends.
"We are on spring break, so we thought we'd come down and support our president," she said. "I think the country as a whole stands behind President Bush, and I think the election in November will show that."
Steven Carter: 503-221-8521; stevencarter@news.oregonian.com
Allan Brettman: 360-896-5746; allanbrettman@news.oregonian.com
---
Peace and Justice Works
Iraq Affinity Group
PO Box 42456
Portland, OR 97242
(503) 236-3065 (Office)
iraq@pjw.info
http://www.pjw.info/Iraq.html
Return to Iraq Affinity Group page
Return to Peace and Justice Works home page

Page posted March 26, 2004