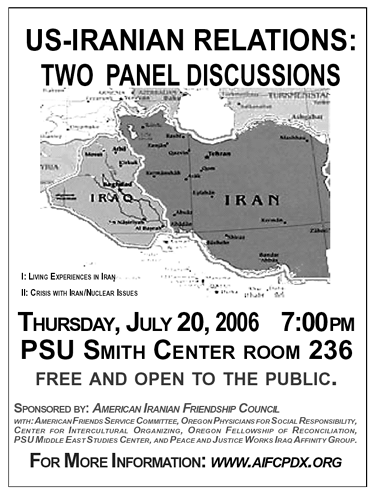 [.pdf flyer]
---
American Iranian Friendship Council
Portland, Oregon
http://www.aifcpdx.org
Forum on US-Iran Relations
Thursday, July 20, 7 - 9 PM
Portland State University
Smith Memorial Student Union, Room 236

The American Iranian Friendship Council was formed in Portland, OR to offer a non-violent response to the looming crisis between the governments of the United States and Iran and to build on the rich history of people to people friendship between citizens of both countries. AIFC will present its first public event with an educational forum on Iran:

Part I
Living Experiences in Iran
Presented by United States citizens who lived, worked and visited in Iran for example as Peace Corps volunteers, volunteers for the Mennonite Church or delegates for the Fellowship of Reconciliation.

Part II
Crisis with Iran on Nuclear Issues
Dr. John Damis, Director Middle East Studies Center at Portland State University
Catherine Thomasson, National Director Physicians for Social Responsibility
Goudarz Eghtedari, Voices of the Middle East

For more information please go to http://www.aifcpdx.org.
Sponsored by: American Iranian Friendship Council
with: American Friends Service Committee, Oregon Physicians for Social Responsibility, Center for Intercultural Organizing, Oregon Fellowship of Reconciliation, PSU Middle East Studies Center and Peace and Justice Works Iraq Affinity Group.
---