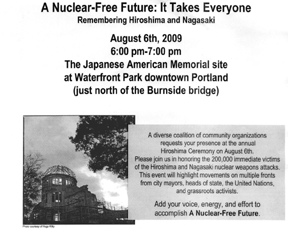 Download a flyer (.pdf format)
---
Remembering Hiroshima and Nagasaki
"A Nuclear Free Future: It Takes Everyone"
A memorial for all the victims of the nuclear age
6-7 p.m. ~ Thursday, August 6th ~ 2009
Japanese American Historical Plaza
Waterfront Park in Portland, NW Naito Parkway at Couch Street
Join us in marking the anniversary of the 1945 nuclear attacks on Hiroshima and Nagasaki. Each year we remember this history with reflections, music, and a call to action. In doing so, we hope to prevent such a grave mistake from happening again.
Sixty-four years ago on August 6th and 9th 1945, the United States dropped the first nuclear bombs on Hiroshima and Nagasaki, Japan. More than 200,000 civilians were killed in these attacks and countless survivors continue to suffer from the effects of the bombs.
Diverse community organizations request your presence at the annual Hiroshima Ceremony on August 6th. This event will highlight movements on multiple fronts from city mayors, heads of state, the United Nations and grassroots activists. Add your voice, energy, and effort to accomplish A Nuclear-Free Future.
Featured speakers and performers are Margaret Eng, Chisao Hata and friends, Ronault "Polo"LS Catalani, Goudarz Eghtedari, Yoshie Yamasaki and Lynn Nutter, Emily Hill, Dr. John Pearson, Mayor Sam Adams and Thousand Waves.
Co-Sponsors: Oregon Physicians for Social Responsibility, Portland Branch of WILPF - Women's International League for Peace and Freedom, SGI-USA Buddhists, Peace and Justice Works Iraq Affinity Group, Multnomah Meeting of Friends, Portland Peaceful Response Coalition, Japanese American Citizens League, Ecumenical Ministries of Oregon, Oregon Hiroshima Club, SGI-USA Buddhists, American Friends Service Committee, Metanoia Peace Community-United Methodist Church, Hanford Challenge, United Nations Association of Oregon, Portland Japanese Garden Society, City of Portland- Office of Human Relations, Japanese Buddhists, Thousand Waves, Kol Shalom Community for Humanistic Judaism, Great Vow Zen Monastery, American Iranian Friendship Council and more...
For more information on this program, please contact:
Oregon PSR
503-274-2720
812 SW Washington Street, Suite 1050
Portland,OR 97205

---