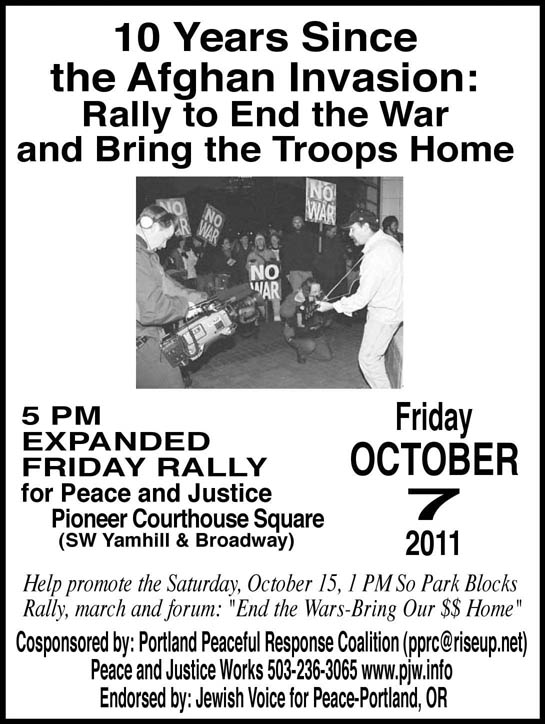 ---
October 7, 2011: Expanded Friday Rally
to Mark 10 Years Since Afghan Invasion
---
* FLYERS for downloading
8.5x11 flyer
1/4 page leaflets

---
Peace and Justice Works
Iraq Affinity Group
PO Box 42456
Portland, OR 97242
(503) 236-3065 (Office)
pjw@pjw.info
http://www.pjw.info/Iraq.html

Calendar Item

For immediate release September 15, 2011
EXPANDED FRIDAY RALLY TO MARK 10 YEARS SINCE AFGHAN INVASION
Friday, October 7, 5:00 PM Pioneer Square Event
also Promotes Oct 15 Mobilization
On Friday, October 7, the weekly Portland Peaceful Response Coalition rally for peace and justice will welcome extra participants, as the date marks exactly 10 years since the U.S. invasion and occupation of Afghanistan. The rally will take place, as it has since November, 2001, at the SW corner of Pioneer Courthouse Square at SW Yamhill and Broadway.
In addition to calling for all troops and contractors to come home from Afghanistan, the rally will serve at least two other functions:
--bringing recognition to protestors who are calling for an end to the wars and sustainable solutions to the economic and environmental crises facing us starting October 6 in Washington, DC (http://october2011.org)
and
--promoting the rally, march and forum to be held in Portland on Saturday, October 15 calling to "End the Wars--Bring Our $$ Home".
Co-sponsors of the expanded Friday Rally include Peace and Justice Works Iraq Affinity Group. Endorsers of the October 7 Friday Rally include Jewish Voice for Peace-Portland.
The organizers wish to acknowledge that the Jewish holiday of Yom Kippur falls on the same day as this event.
For more information contact Portland Peaceful Response Coalition at pprc @ riseup.net or Peace and Justice Works at 503-236-3065.
---