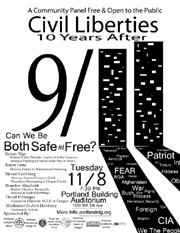 ---
---
For More Information Contact:
Mark Kramer, National Lawyers Guild, (503) 243-2733;
mark @ kramer-associates.com

CALENDAR LISTING

FOR IMMEDIATE RELEASE October 24, 2011
"Civil Liberties 10 Years After 9/11: Can We Be Safe and Free?"
Public Forum on Civil Liberties and National Security
Tuesday, November 8th 2011, 7:30 PM
Portland Building Auditorium, 1120 SW 5th Ave, Portland, OR
The National Lawyers Guild, the ACLU of Oregon, the American Constitution Society, Peace and Justice Works - Iraq Affinity Group and Amnesty International USA - Group 48 are sponsoring an evening forum entitled:
"Civil Liberties 10 Years After 9/11 - Can We Be Safe and Free"
at 7:30pm on Tuesday, November 8, 2011. The event is free and will be held at the Portland Building Auditorium, 1120 SW 5th Ave in Portland.
The forum will discuss the threat to our civil liberties caused by the prior and current administration's systematic policies of torture and targeted killing, extraordinary rendition and warrantless wiretaps, military commissions and indefinite detention, political surveillance and religious discrimination - policies which have dubious or no value in preserving our safety and national security.
Panelists will also highlight ongoing efforts by ACLU, the National Lawyers Guild and others to uncover such abuses and hold those responsible accountable in the legal courts and the court of public opinion.
Speakers include; Steven Wax, Federal Public Defender, who has represented a number of Guantanamo detainees; David Fidanque, Executive Director of the ACLU of Oregon; Kayse Jama, Executive Director, Center for Intercultural Organizing; Steven Goldberg a National Lawyers Guild attorney whose litigation successfully challenged the NSA warrantless surveillance program; and Brandon Mayfield, a local Muslim attorney falsely accused and imprisoned on terrorism charges.
Jo Ann Hardesty, a former state legislator and a long-time voice for Portland's under-represented communities and a leader in the struggle against racial and economic injustice. will present opening remarks and moderate the discussion.
On the evening of September 11, 2001, President Bush addressed the nation. "Our country is strong," he stated. "Terrorist acts can shake the foundation of our biggest buildings, but they cannot touch the foundation of America."
Our choice is not, as some would have it, between safety and freedom. Just the opposite is true. As President Obama recognized in a 2009 speech, "our values have been our best national security asset--in war and peace; in times of ease and in eras of upheaval." Yet, our government's policies and practices during the past decade have too often betrayed our values and undermined our security. 1
For more information see portlandnlg.org .
1- Excerpted from A Call to Courage, Reclaiming Our Civil Liberties Ten Years After 9/11" (ACLU, September 2011) - END -
---