<![if !vml]>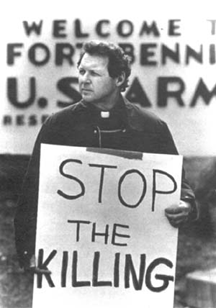 <![endif]>The Struggle for Peace
in Latin America
<![if !supportEmptyParas]> <![endif]>
An Evening with
Father Roy Bourgeois
School of the Americas Watch
<![if !supportEmptyParas]> <![endif]>
<![if !supportEmptyParas]> <![endif]>
Saturday, May 6th, 2006 7 pm
St. Francis Catholic Church
SE 12th & Pine, Portland
<![if !supportEmptyParas]> <![endif]>
Father Roy Bourgeois is an internationally acclaimed human rights activist, and the founder of the School of the Americas Watch (SOAW), a Washington DC based human rights organization dedicated to closing the infamous School of the Americas (SOA). The SOA is a combat training school for Latin American soldiers, located at Ft. Benning, GA. In 2001 the SOA was renamed the Western Hemisphere Instituted of Security Cooperation (WHISC).
<![if !supportEmptyParas]> <![endif]>
Also known as the School of the Assassins, the SOA has trained over 60,000 Latin American soldiers in counterinsurgency techniques, commando tactics, military intelligence, sniper training, psychological warfare, and "interrogation" tactics. These graduates have consistently used their skills to wage war against their own people. Among those targeted by SOA graduates are educators, union organizers, religious workers, student leaders, and those who work for the rights of the poor. Hundreds of thousands of Latin Americans have been tortured, raped, assassinated, "disappeared," massacred, and forced into refugee by those trained at the SOA. <![if !vml]>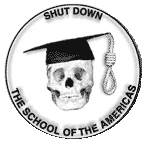 <![endif]>
<![if !supportEmptyParas]> <![endif]>
Father Roy Bourgeois, a Vietnam War veteran and Purple Heart recipient, is a Maryknoll priest who has spent many years working with the poor all over Latin America. Father Roy has spent over four years in US federal prison for nonviolently protesting the SOA. He was awarded the Pax Christi USA Teacher of Peace Award in 1997 and the Thomas Merton Award in 2005.
<![if !supportEmptyParas]> <![endif]>
Sponsored by: the School of the Americas Watch-Oregon (SOAW-OR) and St. Francis Catholic Church.
Endorsed by: Portland Catholic Worker, Witness for Peace, Portland Central America Solidarity Committee (PCASC), Students for Unity. Northwest Veterans for Peace (NWVP), Oregon Peace Works (OPW), American Friends Service Committee (AFSC), Portland SOA Watchers (a project of Peace and Justice Works).
<![if !supportEmptyParas]> <![endif]>
For More Information, Contact: Phone: (503) 288-8014 Email: philipdonofrio@msn.com or visit www.soaw.org